by Mason Voth • EMAW online – Redaction boss – @TheRealMasonV
Nearly a year to the day that K-State announced its start times for the first three games of its season against South Dakota, Missouri and Tulane. Other schools are starting to leak start times for the start of the season or later games, due to TV designations. Here's a look at my projections for kickoff times for each of K-State's football games in 2023. I've also added the network I expect the game to be televised on, which I feel least confident about.
SATURDAY, SEPTEMBER 2 vs. SEMO (6:00 p.m.)
In normal seasons where the Wildcats open at home, you have to go back to 2010 for the game against UCLA, where K-State didn't start at 6:00 pm or later. Furthermore, the last time K-State faced an FCS opponent before 6:00 p.m. against UMASS.
So for me, it's a lock that the Wildcats and Redhawks will start in the setting sun and end in the lights.
Television: ESPN+
SATURDAY, SEPTEMBER 9 vs. TROY (11:00 AM)
Chris Klieman has been pretty open to admitting that he prefers 11am starts, and while this game in recent years would be set for a miserably hot 2:30pm start on ESPN+, I guess the Wildcats learn their lesson. and they try the 2:30 kickoff against a Group of 5 opponent as the bogeyman. If it's not an 11:00 am kick, it's probably going to be 2:30 pm, so I'll hedge my bet a bit.
Television: ESPN+
SATURDAY, SEPTEMBER 16 in MISSOURI (6:30 PM)
Last season, K-State and Mizzou resumed their old Big 8 rivalry at 11:00 a.m. and dealt with lengthy weather delays on ESPN2. This game would seem primed for similar treatment, two schools of power conferences, but since the game is in Columbia this season, there's a chance it could be televised on the SEC Network. That's why I'm jiggling a bit with this pick and hope ESPN/SEC Network designates this for their primetime game on Saturday night.
TV: SEC NETWORK
SATURDAY, SEPTEMBER 23 vs. UCF (2:30 p.m.)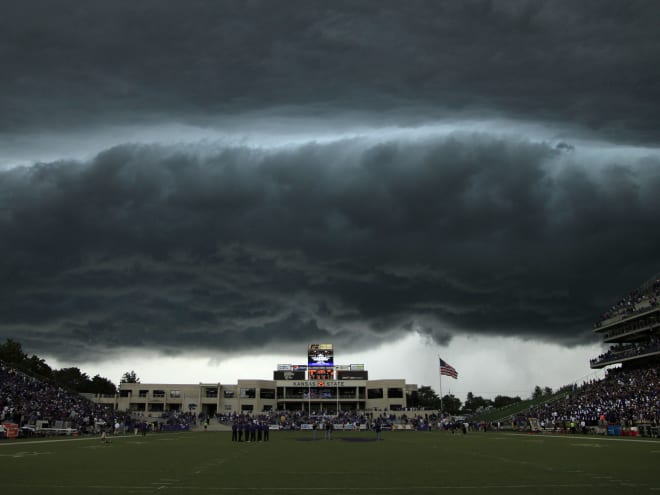 We can't talk about K-State versus UCF without discussing the famous storm game, we're going to be seeing this picture a lot on September 23rd.
As for when this game could start, there will be a couple of options lurking around. With 14 teams in the Big 12 and seven league games every week, it's likely that more games than ever will be broadcast on ESPN+ this coming season. This game could be a candidate for that, but I expect both teams to look good in terms of record.
Texas at Baylor is likely to get the 11:00 am on FOX deal with the Big Noon Kickoff, and BYU vs. KU will be another standout game early in the season. It looks like this game will sit in the 2:30 slot and could have a long list of households that could stream it.
Television: ESPN2
FRIDAY, OCTOBER 6 at OKLAHOMA STATE (7:00 PM)
This was the first real surprise when the Big 12 released their schedule in January, five separate weeks of the season will feature a Big 12 football game on Thursday or Friday night. We know this will be a night start, the question will be is it on ESPN or FS1?
TV: FS1
SATURDAY, OCTOBER 14 at TEXAS TECH (11:00 AM)
Week 7 is a light schedule in terms of big games, and I think both teams will be in the top third of the Big 12 finalists this season, so I project this to be a Big Noon Kickoff game. It will be a big turnaround for a K-State vs. Texas Tech game, but I'm confident the folks at FOX decide this is worth more than Michigan beating Indiana in the Big House. (I know I'll be wrong on this)
TV: FOX
SATURDAY, OCTOBER 21 vs. TCU (2:30 p.m.)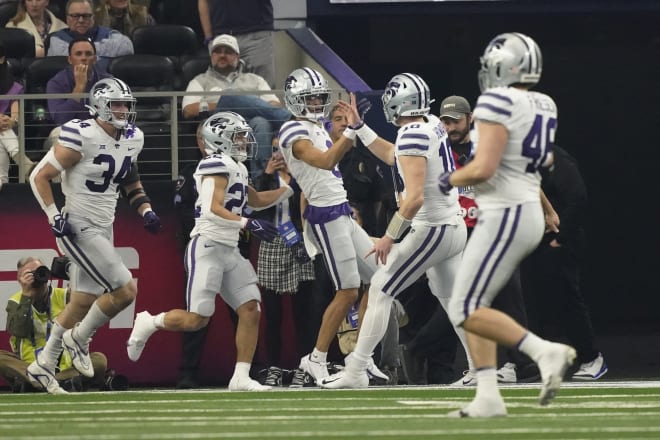 The Big 12 title game rematch will bring some juice, but TCU will be an unknown entering the season. They could be a good team in the neighborhood of 8-4 or they can take a big step back and be closer to .500. The Big Ten has a strong lineup of games this week and will likely dominate the FOX networks, leaving only the ESPN networks. Due to unknown and better options out there, I think this game is heading to ESPN2.
Television: ESPN2
SATURDAY, OCTOBER 28 vs. HOUSTON (11:00 AM)
Houston is going to be really bad in 2023 and a road trip to face a team that many think could repeat as Big 12 Champions is not appealing for television. It makes for compelling webcasting though!
Television: ESPN+
SATURDAY, NOVEMBER 4 in TEXAS (6:30 PM)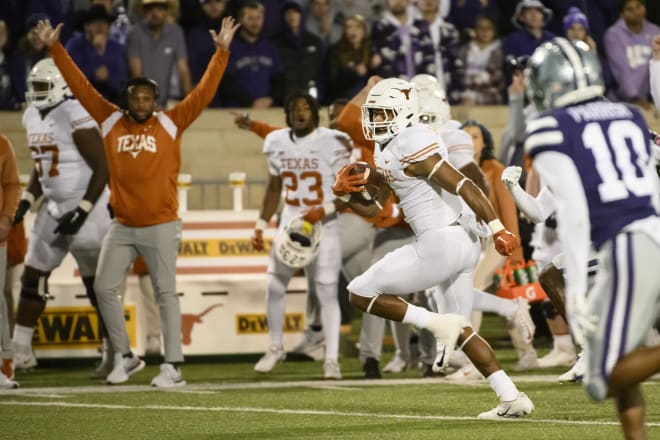 If both teams are on the trajectory many project this offseason, the two teams will play a game in which at least the winner is likely to head to Arlington for the Big 12 title. This game will have a lot of implications and it will be a great game.
Television: ABC
SATURDAY, NOVEMBER 11 vs. BAYLOR (11:00 AM)
This game could be really big later in the year, but earlier this month I said Baylor would bottom out on their win total. I think the Bears will be respectable, but nothing great. This seems to be a game worthy of an 11:00 AM kickoff.
TV: FS1
SATURDAY, NOVEMBER 18 in KANSAS (6:00 PM)
There are some strong games in the Pac-12 that will start later on the FOX networks, but the SEC schedule is pretty light, so I expect K-State and Kansas to end up on an ESPN network. Last year we had a kickoff night for the two in-state rivals and I thought the atmosphere was awesome now that Kansas is relevant in football, this rivalry tonight in Lawrence would be an enticing thing.
Television: ESPN2
SATURDAY, NOVEMBER 25 vs. IOWA STATE (2:30 PM)
This game is hard to peg, the games at the end of the season will be determined by how the teams perform and their importance in the grand scheme of things. Iowa State has some really cool stuff going on around the program, and they're not great. The offense was rotten last season and wasted a really talented defense, plus they have players in the middle of the bets that would lose their NCAA eligibility. Iowa State is going to be a mid-team at best in 2023, this is going to be a mid-day start with a less-than-special TV slot.
TV: FS1